I'd like to speak to some common sentiments I often hear expressed among people I largely agree with about politics, race, Obamacare, global warming, etc.
Here's a paraphrase of some things I've heard a lot of my fellow travelers say:
"When I see something [insert crazy conservative relative here] posts on Facebook, I just scroll past it, I don't engage."
"When I go home for the holidays to [insert semi-rural or suburban part of the country], I just have to keep my mouth shut, it's not worth it."
"At work, there's this one [insert descriptions similar to the above], and I'm just like, wow, did you really just say that? But I don't say anything."
Or here's a meme more or less summarizing the way I think we all deal with vast swathes of the internet: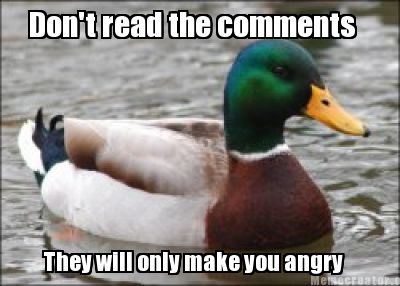 I've come to think these moments represent hugely important opportunities and I want to encourage you to speak up at those times!
I'm not saying that going nuts on a thread with thousands of commenters, none of whom you've ever met, is ever worth it.  What I'm talking about is a little different: I'm talking, yes, about your  cousin, co-worker, in-law, etc.  They're NOT strangers, they're people with whom you share some context.  And they're for the most part the ONLY people any of us encounter with whom we have a serious chance of changing their opinions.
By "serious chance" I don't mean anything more than like 10-20%.  But that's not nothing.
Some Personal Examples
About 10 years ago, I was at a funeral for a great aunt, and my cousin and I, for what was probably the 10th time, got locked in an extended argument during the reception afterwards about Bush-era War on Terror policies.  The discussion must have lasted more than an hour.  It was spirited, we both raised our voices at several times.  Sometimes relatives moved in and out of the discussion.  No one (bless my family) tried to stop us.  At that time, this particular cousin was at the height of what I would describe as his Fox News identity politics phase.  But the point is, we had it out.  We didn't make any personal attacks, but we definitely disagreed with each other, and did so forcefully and at length.  In 2012, that cousin posted on Facebook that he had voted for Barack Obama, and was embarrassed about the conservative movement's demonization of him.  I have no idea if he still supports Obama, but that's not really the point.  The point is, here was a person willing to change his mind in light of, yes, arguments.
A few years ago, at a dinner after my grandfather's funeral, I had an argument with an aunt about whether taxes were theft, and whether it was worth having redistributive policies if people wasted "our" money on things like alcohol or fancy cell phones.  My mother was unhappy with my decision to engage in this argument, but after a few minutes, quite honestly, I think both my aunt and I felt much more comfortable with having that disagreement than either of us might have thought.  It didn't end with either of us changing our mind, but it did end with her saying "I'd never thought about things that way" – and she really meant it.
Also a few years back, my sister-in-law and I had an extended argument about the virtues of urban vs. suburban school systems, race, structural inequality and our potential role in all of those things.  We spoke very forcefully for a long time.  We still see each other regularly and it's not like some sort of lingering thing.  In fact, I feel better knowing we've had that talk.  I'm more confident that when it comes time for both of our families to face decisions about our children's education, we'll do so more mindfully than we might have.
A couple of Christmases ago, my brother's in-laws-to-be came to dinner, and we had an extended argument about the movie Lincoln and whether or not it was an overly white-privileged consideration of slavery and the politics surrounding it.  I had never met them before.  We probably talked for an hour about it.  My sister-in-law-to-be was generally silent (I don't blame her) and seemed worried, but my long-term judgment is that now my in-laws and I have a much more meaningful relationship than we might have.
About a year ago, I had an extended Facebook argument with an uncle of mine, about whether or not the Washington Redskins' team name/symbolism is racist.  It stretched to 40-50 comments.  We didn't resolve the argument, but the next time I saw that uncle was at our baby shower, he said hello, shook my hand, and congratulated me on our soon-to-arrive first child.
About two weeks ago, I had an argument with that same uncle about the constitutionality of the Affordable Care Act.  This time, one of his Facebook friends was drawn in, someone I'd never met.  We sparred a bit and shared a round of insults, but moved past that and while we didn't change each other's minds, the point is, we really did talk about it – again for 40 or 50 comments.
Around the same time, I had an argument with some more distant relatives about whether or not Obama secretly wants all women to be forced into the workforce and out of the home.  One relative and I ended up clarifying our differences; the other ended up blocking me.  So I won't say my record is perfect by any means.  And I'm sure my positions have offended people who haven't talked to me about it.  And I'm sure a lot of people just ignore my posts or have unfollowed me.  There's only so much you can.
What We Can Do
The mainstream media has endlessly lamented what's been called "the great sorting" – we now live with people who agree with us about more and more.  We rarely encounter dissenting opinion in our day to day lives.  And we all complain about it, we have a vague sense that it contributes to the polarization of American politics, "red" and "blue" states, etc.
What can we, in our day to day lives, do about this?  For one thing, we can argue with our cousins, our friends-of-friends, our in-laws and our uncles.  They're likely to be the only voices of dissent we ever encounter.  If we're serious about making a better world, at some point, we're going to have to convince some people we're right.
Not that it's so easy with Facebook.  Several reasons:
1)  The person who posts something has executive control over that thread.  They can delete your comments, or delete the whole thread.  I would encourage you not to do that.  If a relative or friend posts something that offends you or that you disagree with, try your best to talk it out.
2)  The "like" button encourages us into a ridiculous choice: agree or move on.  There is no "dislike button," and so it's really tempting to avoid conflict.  Push past that and take the time to read the comments (if it's a reasonably small discussion) and push back a little.  Or a lot.
3)  Blocking and unfriending are a constant option.  In one of the stories I shared above, I ended up getting blocked.  This bothered me, but I also know I've never blocked someone because of an opinion they expressed.  But blocking and unfriending, except in extreme cases, were someone actually feels harassed, are really just avoidance strategies.  So think it out.  Blocking is the internet-equivalent to saying "I'm never going to talk to you again."  Don't do that because someone voted for Mitt Romney.  Try to tell them why they were wrong to do so.
4)  Threading sucks on Facebook.  You can't reply directly to a comment, you just add a comment to  the thread.  So if a few people are talking, people start unintentionally ignoring each other, and everyone gets more frustrated.  Being deliberate about avoiding that can actually solve a lot of the problems that people think have to do with the arguments themselves.  They don't – they have to do with facebook's user interface.
5)  We can passively avoid arguments.  We can "unfollow" threads or people, so they don't even know we can't see them, giving them a false sense of their own opinions as reasonable, since we don't speak up.  They can't tell who's NOT reading them, so they tend to think anyone on their friend list IS reading them and not speaking up.  I say, don't passively unfollow, engage.
That speaks to online – but what about in person?
My family is probably atypical.  My father's family is Jewish (mostly); my mother's (except for her) is protestant.  There are two entirely different argument cultures at work in our gatherings.  I don't mean to reduce it to a religious or a cultural question, but it has something to do with it.  My father's family all seems to have an innate sense that disagreement is something that will happen.  Arguments rarely become personal, because more people seem comfortable with having them.  People do get emotional, but not defensive.
My mother's family doesn't get together so much, but things there are much more likely to get both emotional AND defensive.  This may be a coincidence, or speak to some broader sociology-of-religion truth, but my wife's protestant family seems to have similar problems.  For the most part, in both contexts, arguments are entirely avoided.
I don't have an immediate solution to that avoidance.  Sometimes the force of conformity and politeness can be so overwhelming that it's hard to even start an argument even when one clearly should be started.  Martin Luther King's observation about how the "white moderate" prefers the "negative peace which is the absence of conflict" to the "positive peace which is the presence of justice" feels relevant here.
I tend to feel much more uncomfortable in such "negative peace" situations.  I feel dishonest, ignored, disrespected, like I'm wasting time.  Not all the time – I mean if you're all just hanging out and talking about christmases past, that's one thing, but when something political IS being discussed, but dissent is being collectively discouraged, I hate that.  I have no idea why some people prefer that to an out-and-out argument.  So I try my best to HAVE that out-and-out argument.
It's tough though – the forces of argument avoidance are strong.
At work?
I know job security is an issue for nearly everyone.  But amongst peers, and even with superiors, it is possible to register disagreement and talk about it.  Many people prefer not to, and I think that's a lot of people who come from family situations like the ones I've just described.  But again, people you work with are more likely to be different enough from you that you might actually affect their opinions, and they might affect yours.
Embrace Your Inner Socrates
Socrates – the eponym for argumentative engagement – himself argued with fellow philosophers, but also lawyers, soldiers, poets and other semi-strangers he met on the streets.  Because of the internet, our extended family structures, and our work situations, we have many more opportunities to have discussions like that than Socrates could ever have dreamed of.
I realize Socrates was executed by a jury of his peers, and so I don't deny that there are risks, but how often do we take them?  And then how much time do we spend complaining amongst ourselves about people who don't get it?