So I don't remember the exact details, but this is Jackson Pollack.  I decided to write about it because, well, obviously, it poses a challenge.   The first idea I had was – a work like this asks you much more to react to it than to understand it.
And my first reaction is that whatever's going on here, it's striking.  This iPhone photo doesn't do it justice – the original is huge, and its colors much more vivid.  I wanted to sit in front of it and write, but there's no bench in that gallery.  I suppose I could sit on the floor, but I'm like 15 years too old for that, and obviously not in art school.  The guard would probably ask me to leave, or at least demand that I put on more black and lose a few pounds before attempting such a maneuver.  Anyway it's late in the day and I might not be able to get back up, so this photo will have to do.
What strikes me most about this canvass is the huge amount of energy that must have gone into the spattering.  Of course, if you stand around this canvass for long enough, you can overhear snippets like "I mean I respect it but like, I don't care for it" or the ever-so-insightful "I mean I could do that, is it art?"  No real reason to respond to that, but the idea that "I could do that" actually makes it work.  There is so much chaos and confusion evidenced here – a lot of art might represent that chaos and confusion, but this just presents it, or enacts it, or expresses it.  HAven't we all wanted to spatter paint on a canvass, or wanted to do the equivalent in our preferred medium?
But just to name chaos isn't to say all that much either.  There's actually also a warmth and a glow to it.  The interplay between the colors suggests more coordination once you spend a longer time gazing into it.  The blacks, whites, reds and yellows are all textured – it you stand up close it's quite three-dimensional in fact.  Something else that comes to mind is those computer-generated maps of the universe, where you see more and less populated regions of space, which show the distribution of galaxies in irregular patches.
There is also an interaction between angularity and curvature.    Sometimes arcs of paint form into swirls, and sometimes they are streaks.  The erratic interplay between curve and straight brings a sense of intermittent order.
Last thought – consider this screenshot of a page of a book I've written a bunch about recently: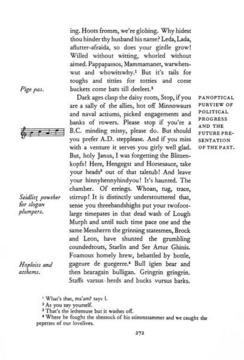 Upon first glance, I'm not really sure you get all that much more than a sense of scattering and chaos.  Even though there are words, and recognizable forms – footnotes, marginlia, music notes, a page number (this is a page from Finnegans Wake's most notoriously dense chapter, II.2), there's really not so much more to go on than with the Pollack.
What's interesting to me about the contrast between the Pollack canvass and the Joyce page is with the Joyce, words bring us towards assuming a representative relationship between those words and other ideas; with the Pollack, the spatters of paint create no such expectation – or do they?
Does this tell us anything about words, painting, their similarities or their differences?  These two artifacts were made within 20 years of one another.  These art threads haven't generated much (well, any) comment yet, maybe this question will?